Museum Pass Program
Supported Through Funds Raised by the Friends of the Library
Open to all Barrington library card holders with no overdue items or fines on their account. For information on how to get a library card, click here.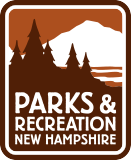 The NH State Parks Pass is available to all Barrington residents and allows free entry for two adults and up to four dependents into many of the state parks throughout New Hampshire. (Flume Gorge, Cannon Mtn. Aerial Tramway, Hampton Beach- South Beach, Wallis Sands, metered parking or camping are not included in this pass).
Just give the Library a call or come into the Library to reserve the pass. The actual paper pass must be picked up prior to your park visit as it will be used to gain entry into the park. These passes are one use only, please do not return them to the Library.
This year the NH Division of Parks and Rec is requiring visitors to use advance day reservations. Making an advance day reservation is the only way to guarantee entry into the park you wish to go to. Getting the pass from the Library DOES NOT guarantee entry. When making this reservation you will be charged a $1.00 non-refundable fee. Also, to avoid the admission fee when making the reservation you must indicate you have a library pass, which you will hand in when you arrive at the park.

This pass has been paid for by the Friends of the Barrington Library and the Barrington Recreation Department in a joint effort to get folks of all abilities and ages to explore the recreational opportunities and beauty New Hampshire has to offer at over 90 state park properties.
---
Museum Reimbursement Program
Sponsored by the Friends of the Barrington Library
Want to visit a museum in New England? The Friends of the Library have set aside funds each year to reimburse Barrington residents for visits to other museums!

Regional museums are a great cultural, educational and recreational resource. The Friends of the Barrington Public Library have created a small fund to encourage Barrington residents to visit some of the many wonderful museums throughout New England. Reimbursements will be made on a first come, first served basis until the fund is exhausted for the year.

Rules of the Program:
Up to $20.00 per visit/per year/per household will be reimbursed, i.e. each household (family members at the same address) may only be reimbursed once each calendar year (Jan. - Dec.).

You must submit a receipt from your visit or membership fee showing the full cost and the date.

Forms to submit requests can be found at the Library or Click Here

Reimbursements will be made on a first come, first served basis, until the fund is exhausted for the year.

This program is only open to Barrington residents, non-resident cardholders are not eligible.

No outstanding fines or fees may be on your family's cards.
Some of the places you can visit:
---
---